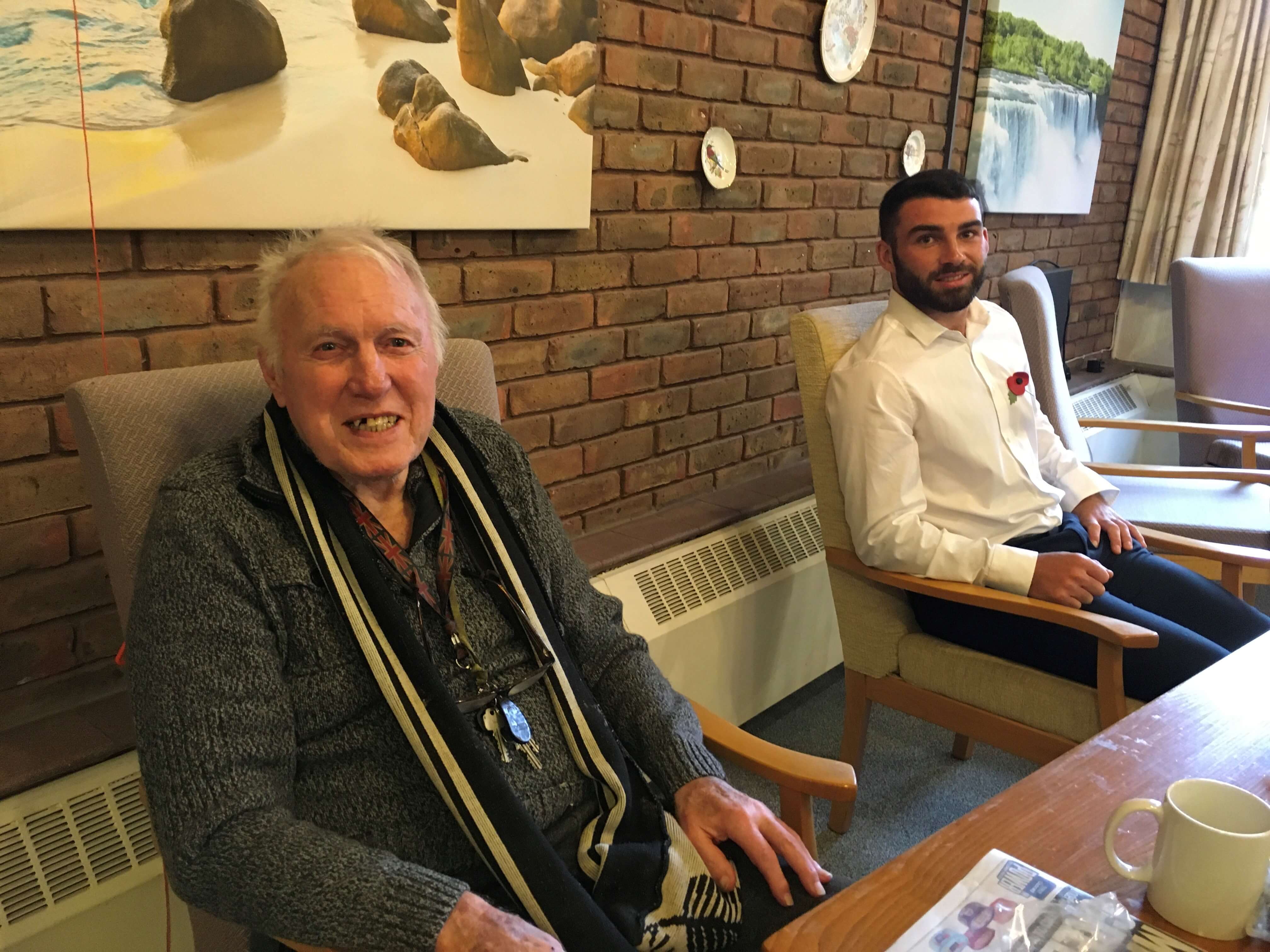 Photo caption: John and David during their conversation and David Fawcett laying the Orbit poppy wreath at Stratford Memorial Garden
"They shall grow not old, as we that are left grow old: Age sh
all not weary them, nor the years condemn. We will remember them".
Last week, David Fawcett (Property Manager and Armed Forces Reservist) visited customers at Melville House, one of our Independent Living schemes, to talk to ex-service personnel there in honour of Remembrance Day.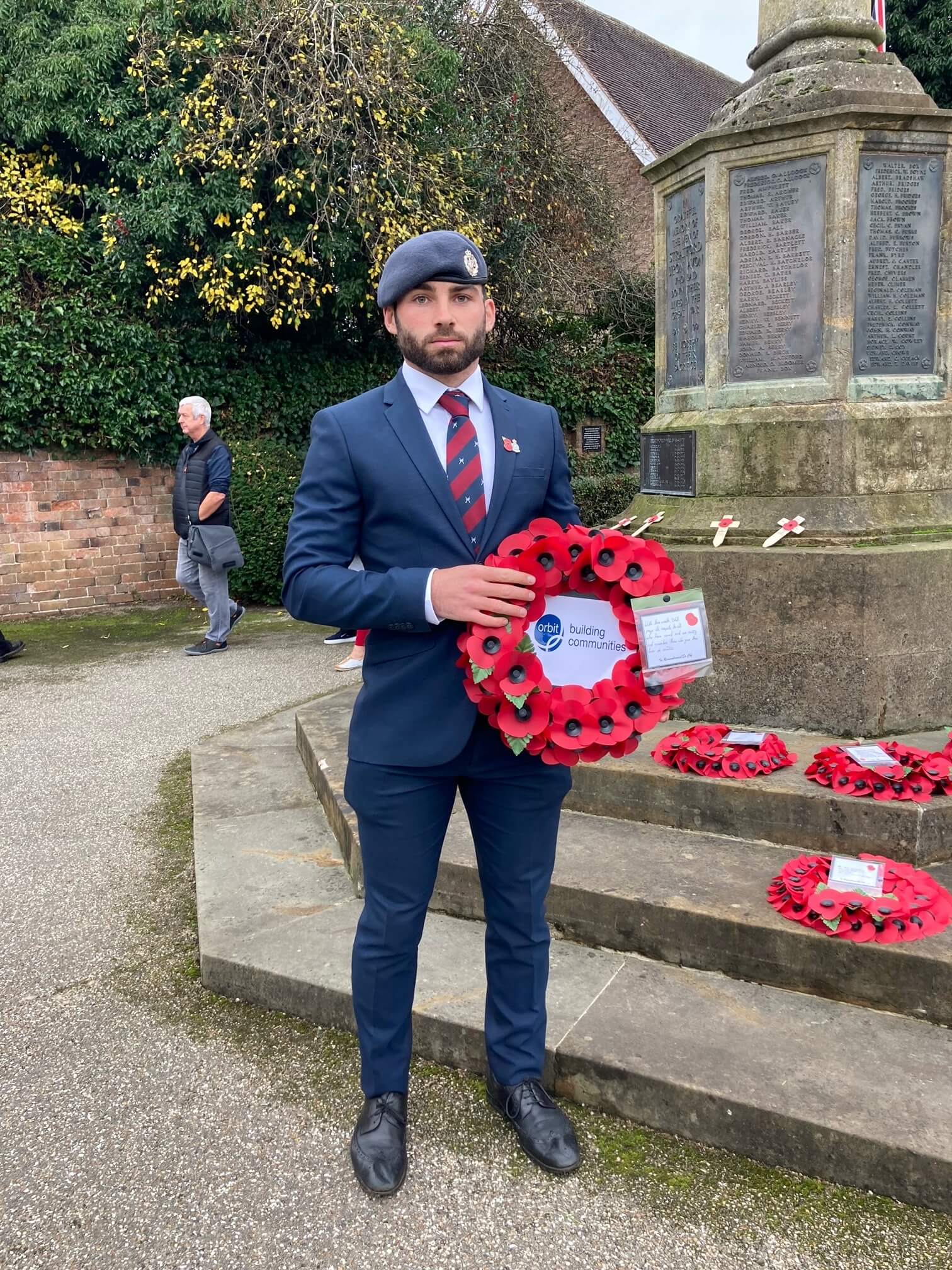 Colleagues also laid poppy wreaths on behalf of Orbit as part of the Remembrance Sunday ceremonies in Stratford, Norfolk and Suffolk.
Here, David shares some snippets from his conversation with our customers at Melville House…
"It was a privilege to visit Melville House and have the opportunity to hear first-hand experiences and stories. Julie Howard, Scheme Officer, kindly provided tea and cakes and we regaled each other in stories and discussions about past wars, experiences, and service history. All were keen to talk and enjoyed having the chance to do so". We thank our customers for their time and openness;
Albert: Royal Green Jackets, Rifle Brigade, Conscript. Served for two years in the 1950's. Albert shared how he completed his training in Germany before being stationed in the Middle East – and how he just about managed to avoid getting involved in conflict! He spoke about the sense of pride he got from serving with the Royal Green Jackets and the discipline he developed from his time there.
John: Construction operative with the RAF. Served for seven years, and when asked where he served, he spoke of how he was stationed 'everywhere' across lots of UK airbases and how he enjoyed his time in the Royal Air Force. His role was lost from the RAF and now no longer exists. He told David that he was offered generous terms to leave the service at that time and took the opportunity to do so!
Lesley: Wife of an RAF Radar Specialist. Lesley shared how she lived in Cyprus for years with her husband and remembered the Cyprus emergency troubles. She recalled how it was a sad situation for all.
Donald: Shared how he served in the Royal Electrical and Mechanical Engineers (and how he is looking forward to getting a new puppy soon!)

We also give thanks to Melville House customers who were unable to attend the session, but whom we are all owe our gratitude: Geoff, who served in the RAF from 1969 until 1981 and; David, who served in the Navy as a Fleet Air Arm.
David said, "Remembrance Day is an opportunity to thank and to remember those who've served and are serving. It was a chance to have conversations with customers that we'd never normally have in our day-to-day encounters and to hear stories we'd usually never hear.
"Laying the wreath and speaking to customers was something I was very proud to be a part of and is something we should continue to do. It's important to never forget".
Why do we hold a two-minute silence?
The first two-minute silence in Britain was held on 11 November 1919 – one year after the end of World War One - when King George V asked the public to observe a silence at 11.00 am.
He made the request so 'the thoughts of everyone may be concentrated on reverent remembrance of the glorious dead'.
The anniversary is now used to remember all the people who have served, or are serving, in the Armed Forces and have given their lives in the line of duty.
Source: BBC.com
Why do we wear poppies?
The reason poppies are used to remember those who have given their lives in battle is because they are the flowers that grew on the battlefields after World War One ended.
Ever since then, they have come to be a symbol of remembering not just those who gave their lives in World War One, but all those who have died on behalf of their country.
Source: BBC.com