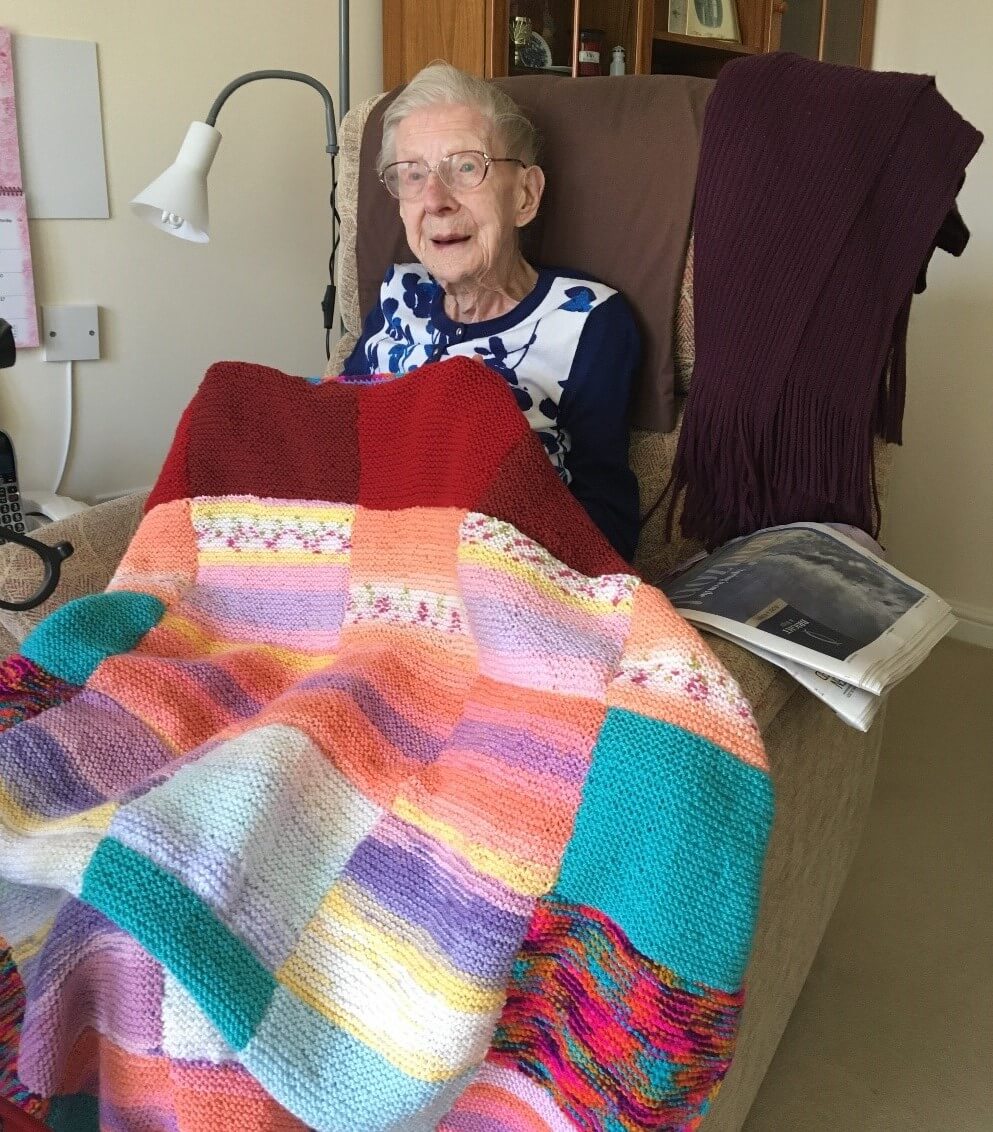 During lockdown, 96-year-old Elise Jean Smith – known as Jean – knitted a giant blanket which will be raffled off to raise money for the gardening group at Caesar Court in Deal, where she lives.
Jean, who has lived at Caesar Court for the last five years, kept herself busy during lockdown by knitting 45 large, multi-coloured, squares. Once she had finished knitting all the squares she needed, it was sewed together by another Orbit resident, who also crocheted around the edge, to create one large blanket.
Jean, a retired toy-shop worker from Deal, explained: "During lockdown I wanted something to do to keep my mind busy. I decided to start knitting the squares, in the hope that someone would be able to sew them together for me and make a blanket. I hope that the blanket can raise some funds for our gardening group here at Caesar Court, so we can buy some new plants and flowers for spring."
Before the pandemic, Jean would take part in a weekly 'knit and natter' group, where she made items for the local hospital, including small hats for premature babies and cannula sleeves for people living with dementia.
Angela Riley, our Activities Co-ordinator at Caesar Court added: "Due to lockdown restrictions, our weekly 'knit and natter' group was unable to meet. However, I was still able to deliver wool to those customers who wanted to carry on knitting at a time when they were isolating or shielding. 
"Jean has always had an interest in knitting, so when she said she wanted to make a blanket, I was happy to facilitate. I took her the wool, which was kindly donated to us, and I asked another customer to sew the squares together once she had finished – creating a lovely multi-coloured blanket. It is pleasing to see that even during lockdown, the residents are working together to keep up morale."
Caesar Court is an extra care independent living scheme, comprising of 81 affordable one and two-bedroom apartments, designed specifically for the over 55s which benefit from a range of communal facilities including a restaurant, cafe and hairdressing salon.
Are you a customer with a good fundraising story to tell? If so, email communications@orbit.org.uk to tell us all about it and you too could appear on our website!