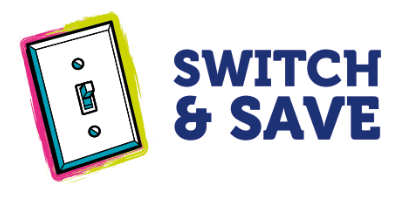 Here, we've put together some top tips on saving energy, including details on a special offer for our customers, called Switch and Save.
Switch and Save helps our customers to save money on energy bills by changing suppliers. And to do this, we've partnered with Good Switch to secure some great rates for our customers to switch to a low-cost, green energy tariff. If you'd like to save money by switching your energy provider, just click here 
Electricity and heating are some of the biggest costs to houses, so it makes sense to look at great tips on how you can reduce bills. 
Even with our gadgets getting greener, and Orbit investing in making its homes as environmentally friendly as possible, there's always more we can do. So, let's look at some top tips to help you save energy, become greener and ultimately save you money.
Not only does natural light improve your mood, but it also reduces the need for electric lights.
So, make sure you open your curtains during the day and when the dark draws in and replace those lightbulbs with LEDs to feel the environmental and cost benefit.
Consider getting a Smart meter installed. Smart meters learn how long it takes to heat your home, so they can have it at the right temperature at exactly the right time and many can be controlled by your phone too!
If a Smart meter is not for you, simply turn your heating down by as little as one degree.
This helps save energy and money each year and you won't be able to feel the difference in temperature either.
Radiate knowledge
Bleed your radiators too – sometimes air gets trapped at the top which means your boiler must work extra hard and the room doesn't get very warm. 
We also have some handy how to videos on 'How to reset your boiler' and 'How to re-pressurise your heating and hot water system'.
It's easy to forget the impact of heating water on energy bills but this can account for 10% of your energy bill so it's worth remembering.
Only fill and boil the kettle with as much water as you need. To avoid cold showers don't leave the shower running when you're not using it and don't make your baths too deep as less water = less heat = less energy.
Remember to use the eco setting on your dishwasher or washing machine to heat the water more efficiently at low temperatures and save water. And if you make sure both are full before switching on, then you'll maximise the water use too.
Finish your day by closing down your electronics and turning it off at the plug. Don't leave televisions or computers on standby all night. You could also try to get into this habit with other appliances, too. Not recommended for the fridge or freezer though!
Switch and save
Now you've made some simple habit changes, switching to greener energy is a great way to save cost and do your bit for the planet too!
Working with Good Switch, we can help you save money by changing to 100% renewable energy, plus you could even receive £25 of free energy when you switch to a participating supplier.
Households can save on average around £270 a year* and what's more, every switch is backed by Good Switch's customer service promise. They only work with quality suppliers, so you can switch with confidence.
So if Switch and Save sounds like something you are interested in, simply click here for more information. 
Happy switching!